Full Website | Mobi Home | Saldanha Bay | Table Bay | Cape Point | False Bay | Mossel Bay | Port Elizabeth | FA Platform | Ngqura | East London | Durban | Richards Bay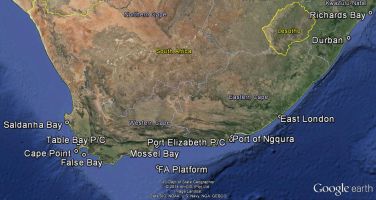 Information about the Time Series Data presented in these pages
Data are displayed without any kind of Quality Control.
Extreme values of any parameter are not plotted.
A missing parameter from a graph denotes a problem in a specific sensor.
Only the last 2 - 3 days of data time series are shown.
For selected stations, the 24 hour forecast is also shown.
The data is updated hourly, on the hour.
---
Page maintained by Ursula von St Ange

Full Website | Mobi Home | Saldanha Bay | Table Bay | Cape Point | False Bay | Mossel Bay | Port Elizabeth | FA Platform | Ngqura | East London | Durban | Richards Bay