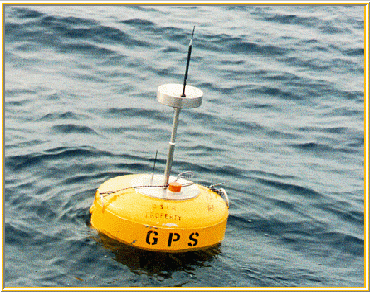 The advent of the differential global positioning system (DGPS) on-the-fly (OTF) and post-processing software has meant that physical positions can be determined with an accuracy of less than a decimeter. Post-processing for wave analysis is acceptable because data have to be captured over a 17-minute period before any analysis can take place.
With these aspects in mind, the CSIR performed tests with a GPS carrier-phase receiver mounted on a wave buoy that was swung on a dynamic calibrator. Vertical movement of the buoy, as recorded from GPS was plotted against the actual sinusoidal locus of the buoy. The recorded positions were very accurate and within 2 centimetres of the actual path of the buoy.
The accuracy of the direction in which the the buoy was swinging was excellent. When compared to existing directional wave systems, which are accurate to within 10 degrees of direction, the GPS has a clear advantage.
Provided a reference station can be established within 30 kilometres of the wave buoy, the differential GPS with OTF software proves to be excellent technology for the measurement of ocean waves (including wave directions) and tidal changes.